Advanced Energy Healing
near Northampton, Massachusetts
Offered By Jon Terrell, M.A.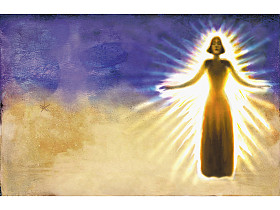 STAR Energy Healing, near Northampton, Massachusetts, is a unique approach to wellness that combines three powerful modalities. First, using the gift of extended perception, I can assess where your life energy is flowing and where it is blocked...in your body, energy chakras and energy field.
Second, I teach Inner Light-Fire meditation that reveals and transform these blocks, cleansing and awakening your consciousness.
Third, clients receive precise hands-on Consciousness Clearing techniques to enhance the free flow of healing life energy throughout the body.
Separately, each modality is powerful and effective. Synthesized together they can feel magical. You not only feel better, you learn how to maintain that sense of wellness on your own.
As part of the Consciousness Clearing, your chakras (energy centers) are cleansed, balanced and aligned. This can bring immediate relaxation and an internal sense of peace and relief.
STAR Energy Healing is helpful for a range of issues. Our issues throw us off balance and block the flow of our life force, our life energy. When our life energy is flowing freely, we are more in the moment, alive and present to experience life unfolding, rather than caught up or trapped in an old "story" of who we are and what life is. Our life opens up.
This work is especially helpful for healing trauma. In trauma our life energy and awareness gets stuck back in time, stored in our body as discomfort, pain or numbness. Bodywork can be an important adjunct to psychotherapy, and can be much more effective than psychotherapy alone as trauma is held in the body and to ignore the body's part can slow down the process of healing.
In the present moment, we are alive and connected to all of our healing and creative resources. This work brings you back in, in to your body in this moment, where you can experience the spaciousness, peace and freedom at your core.
Clients have reported powerful releases, emotional healing, accelerated personal growth and spiritual awakenings.
Most of all, this method helps people connect with the power of love within themselves. That love is the deepest source of our healing.
One of my early healing experiences occurred when I received my first Consciousness Clearing from my meditation teacher. Read the account here.

This experience re-focused my life.  I spent the next 18 years studying and teaching healing methods which includes what I call Advanced Meditation. 
STAR Energy Healing is offered in an initial series of 6 sessions, although clients often continue beyond that. The first session includes a Life Energy Assessment where use extended perception to see into your body and evaluate your energy chakras, body and energy field.
After the assessment, I guide you in a brief Inner Light-Fire meditation. Then, we work together to clear out you energy blocks so that you can enter your body in a new way, and experience it as the sacred temple it is. Part of this is chakra balancing, part body work, part pure energy work, performed on a bodywork table.
What Is Special About This Form of Energy Healing?
You are taught Inner Light-Fire meditations that allow you to connect with your own sources of pure life energy whenever and wherever you want.

These meditations are powerful tools for energy healing, chakra balancing and awakening that focus specifically on clearing out the blocks that keep you stuck. I have over 40 years of experience teaching these extraordinary tools for healing and awakening.
Inner Light-Fire truly is a "gift that keeps on giving" because you can practice these meditations at home to extend the effect of the sessions into all areas of your life.
At most sessions you learn a new energy tool, so that you quickly build a valuable Inner Light-Fire meditation toolbox to use for different life situations. You learn a step-by-step process to accelerate personal healing and awakening.
Clients can also attend a retreat focusing on healing with Inner Light-Fire.
Clients often report this work lasts longer than massage and other healing modalities.
Energy Healing Techniques
Consciousness Clearings are a unique aspect of this work. It's a skillful combination of subtle energy channeling using specific hands-on patterns. This is combined with specific  Innerwork developed over years of study and training with extraordinary teachers.
Sometimes I bring in other forms of hands-on work that complements this energy healing. I'm trained in Cranialsacral Therapy, Reiki, Therapeutic Touch, and other forms of energy healing.
Jon has over 30 years experience in energy meditation, chakra balancing and energetic healing methods. He was a senior trainer in meditation for the School of Actualism and studied with energy masters throughout the world, including psychic healers in the Philipines, John of God, and western teachers such as John Thie (Touch For Health), Russell Paul Schofield (Actualism) and John Upledger (Craniosacral Therapy).
What Does It Cost?
The initial session includes the Life Energy Assessment, guided meditation and Consciousness Clearing, takes about an hour and 45 minutes and costs $250.
The following sessions, which include additional meditations and Consciousness Clearings can take from an hour to an hour and 15 minutes. These cost $200. Payment can be cash, Venmo, PayPal or personal check.
Cancellation Policy
Please give at least 24 hours notice before the appointment time to cancel or you will be charged for the session.
To find out more about Advanced Energy Healing near Northampton, MA, or to schedule:  Contact me through the form below. 

Go from Energy Healing Northampton to Massage and Energy Healing

Go To Chakra Balancing Massage

Go To Reiki
Go To Awakenment Wellness Home Page