Grief Retreats For Pet Loss
Led by Jon Terrell, MA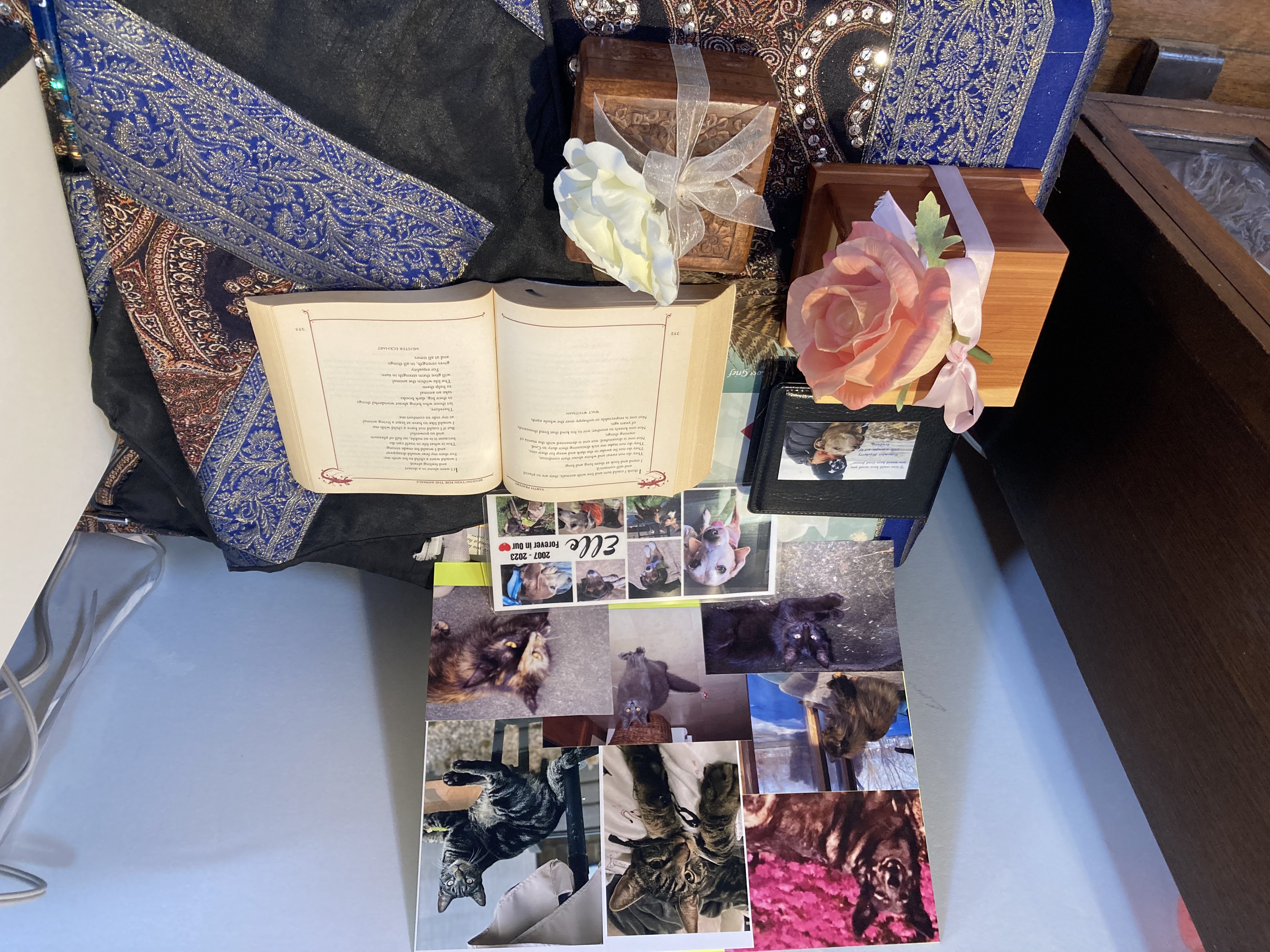 Honoring Your Pet At Star Dance Ranch
I've been leading Grief and Loss retreats for over 20 years at Star Dance Ranch in western Massachusetts. Most people come because the loss of their husband or wife or child. Over the years I've been asked by people grieving the loss of their animal companion, and I've said no. But this past year, I've said yes, as I've come to realize that for them their loss is just as real and painful.
These participants have been welcomed into our loving community. At the retreats it doesn't take very long for people to release their judgements of others and move into the experience of deep love, which is totally inclusive. Of course, this can involve a lot of work, which is what the retreats are for: releasing emotional pain, anger, anxiety, projections at others and ourselves, etc.
So I've dedicated a portion of the Star Dance room, where we do our deep emotional healing work, to create an altar for those who have come here to tell the story of their beloved animal and honor their pets with pictures.
The following is an account of my loss, several years ago, of one of the guardian cats at Star Dance.
Honoring Denver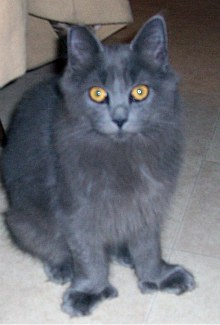 Denver died yesterday. My precious grey princess, only 13 months old.
She was run over, lying in the middle of my street. When I saw her I couldn't contain myself...I shouted, ran to her, started crying. But there was nothing I could do. No pulse, she was gone. I could see no life in her eyes, in her body. This was my first direct experience with pet loss.
Last night I lit a candle for her. I could see the light of the flame all night as I tried to sleep.
My friend D and I buried her this morning, in one of her favorite places, under a large evergreen bush, by the side fence. I read a few prayers for her, spoke of some of our good times, celebrated our lives together. I cried too, mourning her sudden death.
I've visited her gravesite, marked by a big smooth grey rock the color of her fur, several times today, to reflect and grieve To breath, let tears come, and go with my process.
I've been leading Grief and Loss retreats for several years. People come from all over, grieving the loss of loved ones, relationships that have ended, and even the loss of one's own unlived lives.
I've come to know the healing power of a loving group to help people move through grief, and the healing power of tears.
Today I have a deeper appreciation of what it is like to lose a pet...a dog, or cat or whatever creature we have loved.
I adored Denver, and she adored me. Whenever I would be near her she'd run to me and rub against me, wanting to be petted, to be loved.
Denver helped me love BIG. That is one of her gifts to me. And today she is giving another gift, which starts in the form of this letter to you. I hear her calling me to write this, and to help those of you who are going through deep grief about the loss of your pet to find me and, if you resonate with it, to come to one of the Grief and Loss Retreats, to focus on your pet loss.
You can find out more about my next retreat and how it may help you cope with your pet loss on this page: Grief and Loss Retreat. There are also some valuable grief resources on this website you may want to look at to help you. Some of these links are below.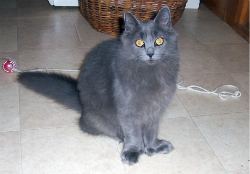 Jon Terrell offers retreats for healing emotional pain several times a year in Massachusetts and other locations. 
For more information or if you have a question, contact him using the form below.

Go to Grief and Loss Retreat

Go From Pet Loss to Healing Emotions

Go to Extreme Grief Page

Go to Handling Grief Page

Go To Grief Stricken Page